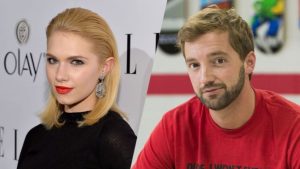 Claudia Lee has joined the cast of the coming-of-age skateboarding film "Paved New World," Variety has learned exclusively.

Veteran producer Brad Krevoy is producing with "Skate God" director Alexander Garcia helming from a script by the writing team of Scott Marcano and Kip Koenig. Garcia, formerly a pro skater himself, is also a producer on the project alongside producing partner Anne Stimac.
"Paved New World," which was originally set up at Disney during the 1990s, will take place in the summer of 1995. YouTube star and skateboarder Andy Schrock stars as a hometown skateboarding hero named Gibby caught in the middle of a mid-life crisis.
The film centers on two teens who have just graduated from high school, heading off in different directions in life. Before they can embark on their new journeys, they take their boards on a final trek across town to witness Gibby attempt to skate "unskateable" Widow Maker Mountain on his skateboard, as his last attempt to prove he is still the idol he once was.
Read more by Dave McNary on Variety