Starred in MPCA's A Princess for Christmas and recent remake of  The Saint with Eliza Dushku
"Sir Roger had the most sensational sense of humor, elegance, and compassion for other people. He will be missed by everyone who had the privilege of knowing him and seeing his movies. Our condolences to Lady Kristina, Geoffrey, Deborah and the rest of his family."
– Brad Krevoy, CEO of MPCA/Brad Krevoy Television
From Deadline Hollywood:
Sir Roger Moore, the suave English actor best known for playing James Bond and Simon Templar in The Saint TV series, has died at age 89 in Switzerland.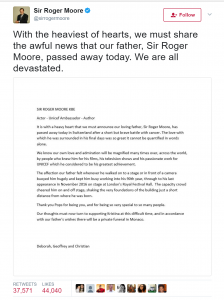 The third Bond actor to hit the big screen, after Sean Connery and George Lazenby, Moore starred as the 007 agent in Live And Let Die (1973), The Man With The Golden Gun (1974), The Spy Who Loved Me (1977), Moonraker (1971), For Your Eyes Only (1981), Octopussy (1983) and A View To A Kill (1985).
During his tenure as Bond, he starred in other features such as The Wild Geese with Richard Burton and Richard Harris as well as The Cannonball Run with Burt Reynolds and Farrah Fawcett, but none were ever as successful as Bond.
"Being eternally known as Bond has no downside," Moore said in The Guardian. "People often call me 'Mr. Bond' when we're out and I don't mind a bit. Why would I?"
After passing the reins to Timothy Dalton, Moore took a hiatus from acting and didn't make another film until 1990, when he starred in Fire, Ice & Dynamite and Bullseye!. His acting roles became more sparse throughout the rest of his career: In 1997, he had a brief role in the Spice Girls film Spice World and in 2013 he had a role in the reboot TV version of The Saint with Eliza Dushku.
Moore was dedicated to his work for UNICEF after Audrey Hepburn introduced him to the charity. He became a Goodwill Ambassador in 1991 and since then has become known as much for his work for children's rights as his acting.
Read more by Diana Lodderhose on Deadline Hollywood